New releases added to the site!
New material will be added as we find it, so bookmark us so you can find your way back.
Beyond Sundered Seas

by David Green

Paperback now available! To be released on Kindle 11 April!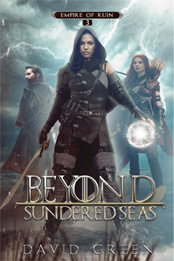 The tides of fate are shifting.
The Banished have returned, and they have set their eyes on the walls of Solitude.
Zanna Alpenwood, a powerful mage, and two hundred aged and forgotten Sparkers are all that stand between the Banished and the nation of Haltveldt. With time running out and the world at stake, Zanna is forced to reach out to her estranged daughter, Calene, and set her on an impossible quest.
Calene quickly learns that enemies make unlikely allies as she teams up with both friend and foe on her journey to save her mother and Haltveldt. Forging their way over land and sea, uncovering dark plots and secret societies, Calene is forced to decide between her masters and her own conscience.
Will they arrive in time to save the fortress of Solitude from destruction? Only one thing is certain; Ruin is assured if Solitude falls.
The war has just begun.
Order the third book of the
Empire of Ruin
series on
Amazon!
Crucible of Shadows

by Jon Cronshaw

Now available!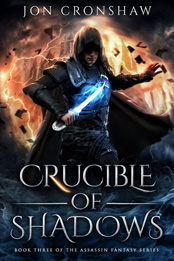 Fedor is an assassin...
...but he refuses to kill.
When a client discovers he's been conned, he makes an impossible set of demands. Fedor and his crew must return the money with interest and complete the original assignment.
Or face the wrath of Nordturm's most dangerous gang.
As Fedor struggles with drug addiction, his bonds with his crew reach breaking point.
He must do everything he can to complete the job and keep his crew together.
Pre-order the third book of the Dawn of Assassins series on
Amazon!
Oracle of Life

by Katherine D. Graham

Released January 17th 2023!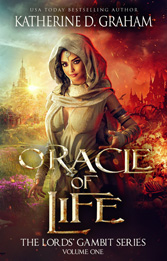 Six fallen lords. Three vengeful goddesses. And one mortal, damned to prophesy for them all.
An Exiled Oracle
Nariah, the Heiress of Ellonai, is dead. An exiled, desert-dwelling Doomsayer is all that remains within the shell of the powerful princess she once was.
A Heretic
She isn't sure which of her visions her people hate more: the one where the three benevolent goddesses they serve have decided to destroy the world, or the vision of six lords falling from the skies to save them.
The World's Only Hope
Stumbling across the very lords she's been seeing in her visions for years, only Nariah's accursed gift of Sight can aid the lords in their rebellion against the goddesses, and determine the fate of her world before it's turned to ash.
But does she even
want
to save those who've wronged her?
A whole new take on mythological fantasy awaits in this thrilling dark epic by USA Today Bestselling Author Katherine D. Graham.
Order Oracle of Life on
Amazon!